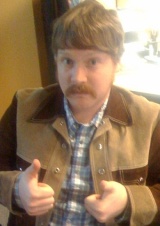 Samuel Claiborn is the mustachioed Nintendo expert guest of the podcast. He appeared on only one episode to discuss the death of Nintendo Power. He is the Executive Editor of IGN Guides and frequently appears on Nintendo Voice Chat. 
Known For
Edit
Sam is known as a rabid fan of most things Nintendo and for having a glorious moustache. Claiborn also is known for mooning an old lady as explained in the one episode. He also happens to be a talented musician in a successful band called the Okmoniks. He is in the band with his now-wife, Helene. Although obviously bald and always sporting a wig, he seems to hide the fact that the baldness rules his life quite well.
Ad blocker interference detected!
Wikia is a free-to-use site that makes money from advertising. We have a modified experience for viewers using ad blockers

Wikia is not accessible if you've made further modifications. Remove the custom ad blocker rule(s) and the page will load as expected.